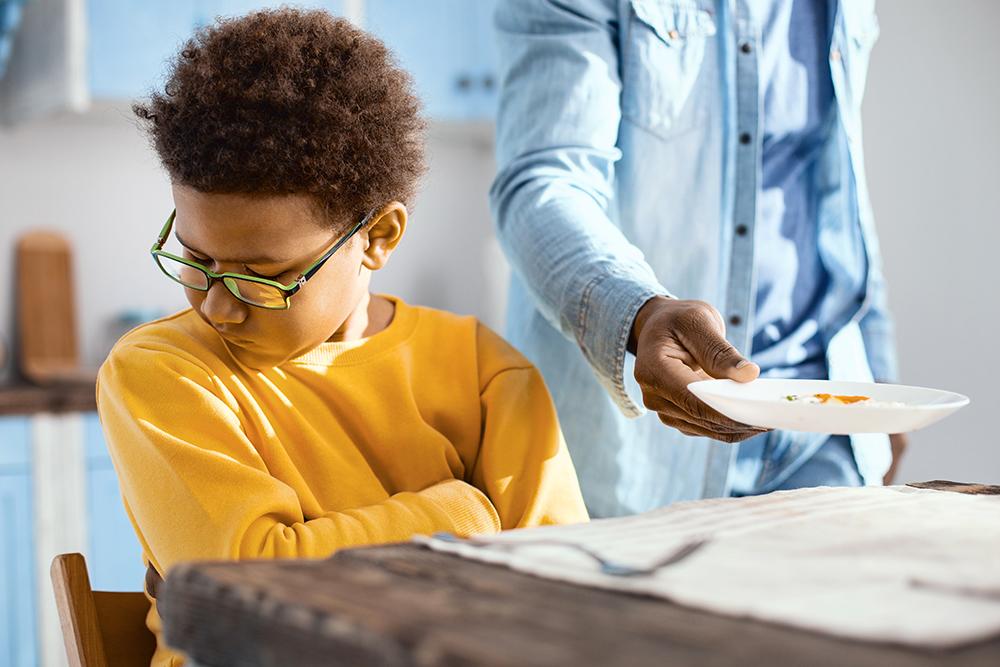 It can be a frustrating to have a picky eater at home, but even more problematic is the fact that a young athlete's desire to only eat French fries and mac and cheese might mean they are missing out on key macro and micro-nutrients.
Data suggests that being a picky eater is partly rooted in genetics, but you also have the ability to shape your child's eating habits for the better. With a few small tweaks and a lot of patience, you can ensure that your athlete is getting healthy options that appropriately fuel them for activity.
Make a list of 'acceptable' options
Most picky eaters have certain diet staples, like chicken nuggets or peanut butter and jelly sandwiches, and are at risk of having diets with unhealthy amounts of sugars. Because of this limited, ultra-processed menu, picky eaters can potentially end up missing out on key macro and micro-nutrients like protein and fiber, as well as an array of vitamins and minerals.
The key is to find a few options that resemble your child's go-to foods while still providing the nutrients that they need. For example, instead of tortilla chips after a game, bring kale chips or another vegetable chip that is still salty, while also providing some nutrients. You can find more suggestions to healthy alternatives in the table below.
Fried chicken nuggets
French fries
Chips
Ice Cream
Gummy fruit snacks
Hot dogs
Sugary cereals
Oven "fried" chicken tenders (coat with corn flakes to make extra crunchy)
Oven-roasted sweet potato and white potato "fries"
Root vegetable chips (store-bought or you can bake them yourself)
Frozen Greek yogurt cup (put in freezer for 1 hour)
Fruit/veggie pouches: apple sauce pouches or dried cherries, cranberries, blueberries, etc.
Uncured chicken sausage links on whole grain bun
Cold overnight oats with dried fruit
Make sure that the healthier options that your athlete is willing to eat are always available – you might think it sounds like a boring menu, but those healthy alternatives will at least provide adequate amounts of protein, fat, and carbohydrates, as well as certain vitamins and minerals.
Give them the reins  
Get your picky athlete into the kitchen with you. Often, when picky eaters are taught how to cook, it can improve their eating habits and open their eyes (and stomachs) to new flavors. Start by teaching your athlete to make the dishes that they like and gradually try to shift to more nutrient-dense options. You can even include them in the meal planning. Explain that every meal needs to include a vegetable, a protein source, carbohydrates, and a healthy fat.
If your athlete loves pizza, for example, you can experiment with making a whole wheat crust together, adding real tomatoes to the sauce, and swapping out toppings like pepperoni for lean, protein-packed chicken. And of course, top it with all the vegetables that your athlete is willing to eat!
Show, don't tell
TrueSport Expert Kristen Ziesmer, a registered dietitian and board-certified specialist in sports dietetics, suggests that "parents need to set the example. If they aren't eating well, then there's no way the kids will." She adds, "If the parents are struggling with their diet or don't know how to eat properly, I suggest working with a registered dietitian. If cooking is a problem, take a local cooking class."
You should be serving and eating plenty of vegetables and lean proteins with appropriate carbohydrate and fat sources to show your athlete what a balanced plate looks like. Research has shown that this simple exposure to these healthy foods can even help your child open up to trying them.
Make food easily available
One issue for picky eaters is under-eating because they aren't willing to consume the healthy options that are available. Have a designated spot in the kitchen (and a bag in the car or your purse) that has your athlete's 'approved' stash of healthy snacks. Make sure they always have a spare snack in their backpack too.
"Changing your environment has a major impact on diet healthiness. Have a fruit bowl on the counter. Keep cut up fruits and veggies in clear containers in the fridge at eye-level and in the front of the fridge. Package up leftovers in individual containers that are easy to grab and heat up. Keep a pantry in the house that is full of healthy options they can reach into: baked root vegetable chips, dried fruit, peanut butter, whole wheat bread, whole grain crackers, dehydrated cheese 'crackers,' whole grain granola bars, or fruit and nut bars," adds Ziesmer.
The primary goal of having an easy spot for your athlete to grab a snack is to ensure that their picky nature never prevents them from fueling properly.
Pack in the nutrition
If your picky eater is willing to drink a fruit smoothie, use that smoothie as a vehicle for things like plain Greek yogurt, which provides protein, calcium, and vitamin D. You can even add a small handful of spinach. Spinach is a nutrient-dense powerhouse food, and it's also easy to sneak into stews and sauces without altering taste or texture. Small seeds like hemp, chia, and flaxseed provide key micronutrients and fiber and can also be easily slipped into smoothies, cereal, or a peanut butter and jam sandwich.
You can also work toward less sneaky swaps, like changing white bread for a whole grain option, adding a dark leafy green instead of iceberg lettuce on a sandwich, or adding some vegetables as pizza toppings.
Keep an eye out for disordered eating patterns
The darker side of picky eating is that it can be a way to mask orthorexia or another eating disorder, especially in teen athletes who may be struggling with body image issues in sport. In fact, several years ago, Avoidant/Restrictive Food Intake Disorder (ARFID) became a clinical diagnosis for more serious cases of picky eating.
Picky eating has been shown to coincide with serious childhood issues such as depression and anxiety that may require intervention, so pay attention to other symptoms your athlete is displaying, as well as sudden changes in weight. This might look like an athlete showing more interest in eliminating specific foods from their diets or trying one trendy diet after another.
One thing to keep in mind, according to Ziesmer, is that "as parents, it is not wise to set limitations on a particular food, for example, letting your kids eat candy. That can put a stigma around the food for the kid and they can become hyper-focused on it. It's important to focus on and encourage healthy foods and when a special event, like Halloween comes around, allow kids to enjoy candy in moderation. This, plus parents being the role model, will also help to prevent disordered eating."
_______
Helping a picky eater choose healthy foods is no small challenge, but with small and gradual changes, you can ensure that your athlete is getting the nutrients they need to develop and perform at their best.