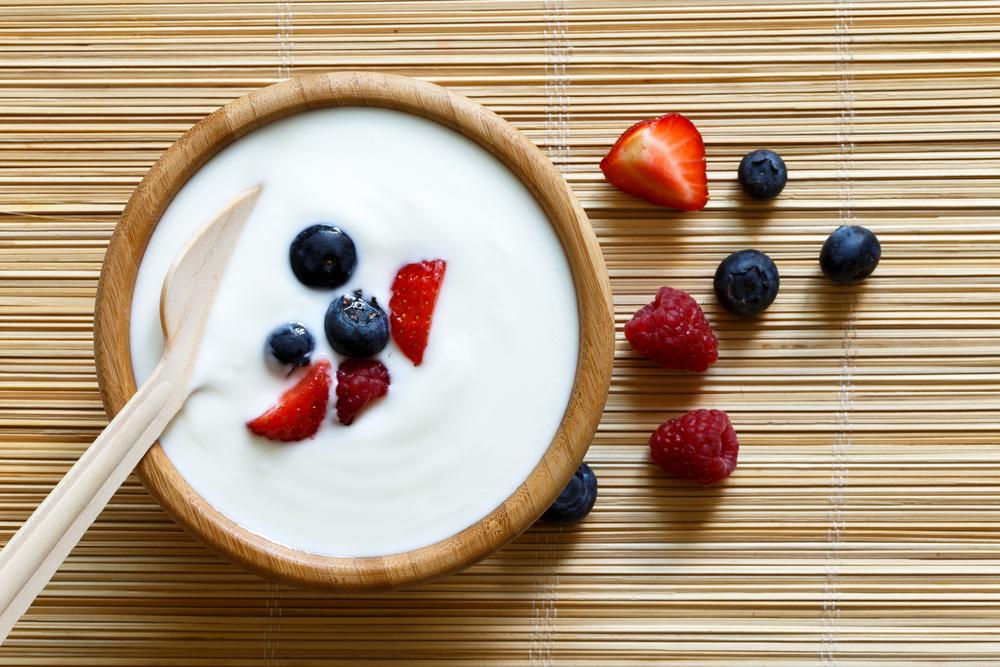 Whether it's game day for your young athlete or you just want to give them the boost they need to get through the day, breakfast is a vital component in establishing a long-lasting energy level.
Think of it as setting the mood for their metabolism, brain activity and muscle function. It's important for young athletes to have a balance between protein, fat and carbohydrates at every meal for peak performance.
Generally, athletes should consume 20 to 30 percent of their calories from fat, at least 50%, but ideally 60-70% of their total calories from carbohydrates and protein intake depend on their training (See Table 7)*.
Kick off your athlete's day with one of these six breakfast options for on the go or when you have a little more time in the kitchen. They will feel fueled and ready for exams, practice, tournaments… and anything their day may throw their way!
1. Nut Butter Banana Shake:

Shakes are quick, easy and allow you to mix multiple nutrients into one 'meal'. We urge for finding natural protein sources for your shakes, avoiding supplements and protein powders. Nut butters, such as peanut butter, almond butter and cashew butter, contain approximately 4g of protein for every tablespoon.
Our favorite combination is that rich nut butter with a banana (which aids in digestion, sustain blood sugar and reduce swelling), and 1% milk – another protein packed option with approximately 8g per cup. Psst… sneak in some spinach or kale for some vegetable benefits.
Ingredients:
1 peeled banana
1 cup of skim milk (or nut milk alternative)
1 tablespoon of nut butter
½ cup of ice
1 teaspoon of cinnamon
Bonus: ¼ cup uncooked spinach
Instructions:
Mix together in blender until smooth and serve.
2. Greek Yogurt with Fruit & Seeds
Greek yogurt has really become a buzz-word in the nutrition world, but it's not a fad! It's worth incorporating into your family's diet because of the protein value.
Plain Greek yogurt, on average, contains 30% of the daily value for calcium (aka strong bones) and contains less carbohydrates than regular yogurt. We suggest plain Greek yogurt to avoid the sugar in some of the flavored kinds and be weary of the saturated fat content. Look for fat-free or low-fat options and just remember to check nutrition labels.
For the proper carb balance, we suggest adding berries or bananas to the yogurt to sweeten it up, instead of sugar, as well as seeds like flax or pumpkin for a healthy dose of unsaturated fat (better brain function).
Ingredients:
1 cup plain, non-fat Greek yogurt
½ cup of fruit of choice
2 tablespoons of seeds of choice
Bonus: ½ teaspoon of cinnamon or 1 tablespoon of granola to add more flavor & texture
Instructions:
Mix all together into a bowl and serve.
3. 2 Egg Power Omelet

Omelets are a great way to incorporate vegetables into breakfast, and we all know it can be difficult for kids to get enough vegetables into their daily diet. Peppers, onion, spinach, mushrooms, even broccoli and asparagus have been known to make their way into omelets.
What's great about this dish is that you can let your kids customize their own breakfast. Pick an option for additional protein like soy-chorizo, turkey bacon, Canadian bacon or even salmon if they have a taste for it. Stay light with the cheese, if even at all. Choose Swiss or low-fat cheddar cheese to keep with the high-protein theme.
Ingredients:
2 eggs (3 eggs if they are extra hungry)
1 tablespoon 1% milk
1 oz. cheese
½ cup of chopped vegetables and meat (3/4 cup for 3 eggs)
Bonus: Top with slices of avocado or side of cottage cheese
1 tablespoon cooking oil (recommended: olive oil)
Directions:
Heat skillet to medium and add cooking oil to the pan. Beat eggs and milk with a whisk in a bowl until it's completely mixed. Sautee vegetables until they are no longer firm and add meat to warm. Remove from pan and set to the side. Add more cooking oil if necessary. Pour egg mixture into the pan. Once the bottom of the egg is firm, add in sautéed vegetables/meat mixture and cheese on ½ of the egg and fold the other half over. Cook for an additional 2-3 minutes and flip the omelet. Check middle to ensure the egg is completely cooked and then serve.
4. Turkey Breakfast Sandwich
Nothing says on the go breakfast like a breakfast sandwich, but as we know the typical sausage or ham English muffin can have hidden calories, sodium, saturated fats and excessive carbs. For a healthier take, choose meats that are considered to be lean meats and not processed.
While oven roasted turkey may not be traditional breakfast meat, warming it up on the grill and pairing it with cheese, egg and toast can disguise the breakfast culprit. You can also look at options like turkey or Canadian bacon, but again pay attention to nutrition labels for sodium and saturated fat content. Instead of white bread, swap it out for whole wheat or multigrain toast and choose Swiss cheese, which contains about 8g for one slice.
Ingredients:
Two slices of whole wheat or multigrain toast
1 egg
1-2 oz. of oven roasted turkey (avoid deli-style)
1 slice of Swiss cheese
1 teaspoon of cooking oil (recommended: olive oil)
1 tablespoon of milk
Bonus: slices of avocado
Substitute: Turn it into a wrap with a whole wheat tortilla instead of toast
Directions:
Heat a skillet on medium and add olive oil to cover the bottom of the pan. Crack the egg into a bowl and add milk. Whisk together and cook on skillet, trying to contain the egg to the size of the bread. Toast your bread in the toaster half way. Once the egg is cooked, remove from the pan and set aside. Add turkey to the pan to warm up. Remove the turkey then add more olive oil to the pan if necessary. Lay down 1 piece of toast into the pan, add the egg, turkey then the cheese and finally the piece of toast. Flip on the skillet back and forth until the cheese is melted. Remove from pan and serve.
5. Hot Oatmeal & Nuts
Oatmeal has been proven to curb hunger cravings longer, which for growing athletes is helpful in getting them to their next meal. Plain steel cut, rolled and instant oats generally have the same nutritional value but watch out for flavored oats as they may contain hidden sugars, which could cause them to crash.
By adding nuts, such as almonds (highest in fiber), pecans (heart health), cashews (zinc for brain power) or walnuts (fights inflammation), you're providing your athlete with necessary fiber, protein, and monounsaturated fats.
Ingredients:
½ – 1 cup steel cut, rolled, or instant oats
2 parts water (or 1% milk) for every cup of oats
2 tablespoons of nuts
Bonus: ½ teaspoon of light Agave Nectar and/or ½ teaspoon of cinnamon
Double Bonus: ¼ cup of fruit
Directions:
Prepare oats according to package (preparation differs depending on the type of oats). Add in nuts, fruit, agave nectar and/or cinnamon and serve.
6. Eggs Over Easy in an Avocado
We may have saved the best for last. Your kids won't even realize how good it is for them. One egg contains about 6g of protein and while avocados aren't protein packed, with only ~ 2.9 grams per cup, the benefits lie in the heart-health monounsaturated fatty acids, antioxidants and fiber.
They are a powerful food, despite their higher calorie count, but with an active athlete, calories should be less of a concern. You may have heard of eggs in a basket, but this is a healthier take by substituting toast with an avocado.
Ingredients:
1 avocado halved with seed removed
1 medium egg
1 pinch of salt & pepper (or desired seasonings)
Bonus: Serve with 1 cup of fruit
Directions:
Heat oven to 425 degrees Fahrenheit. Take the halved avocado and place on baking sheet, scooping out additional avocado from the seed pit if needed. Crack egg directly over avocado and position yolk over pit. Place into oven for 15-20 minutes. Remove from oven, top with seasoning and chives, and then serve.
—
There you have it! Six delicious recipes to keep your young athlete fueled for whatever life may serve them. Keep in mind the amount of protein an athlete should consume varies depending on their type of training. Consult with a dietician or nutritionist before starting your athlete on any nutrition program. See our Athlete Nutrition Guide for more information about protein, carbohydrates, hydration and more.