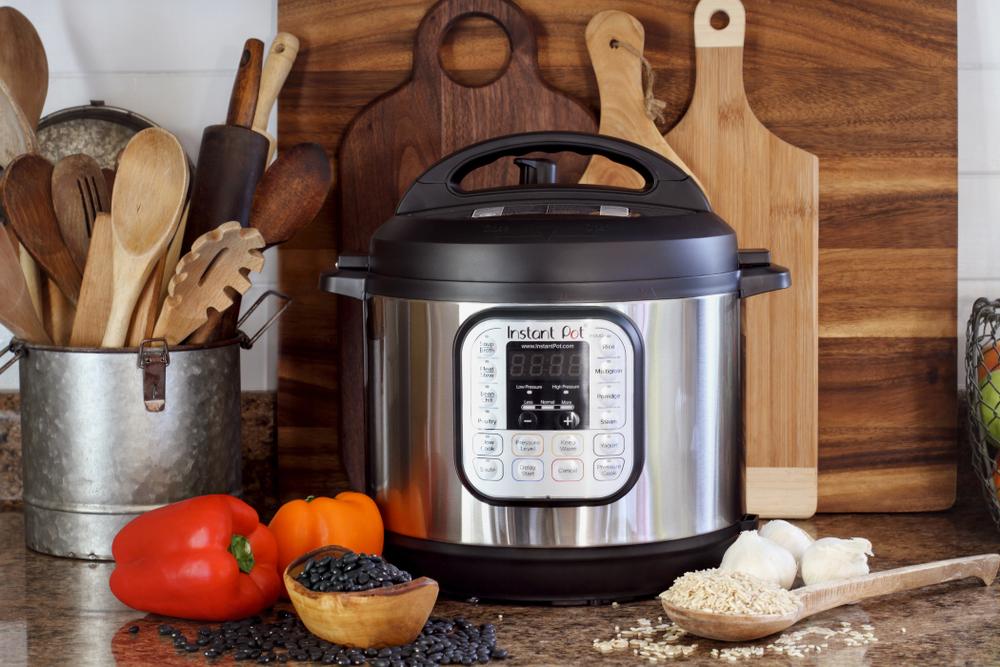 If you bought an Instant Pot (or any type of pressure cooker) in the hope that it would simplify your life and cooking, but now it rarely gets used, then this is the article for you. When dealing with packed schedules for kids in different sports, plus your own work and other obligations, finding time for a 25-step process to get dinner ready in a pressure cooker is not an option. After all, this is a device that's supposed to save time, not require more!
So, we're keeping things simple: No precise measurements, drawn-out prep instructions, or lengthy cook times here. These Instant Pot recipes are truly easy to make, with minimal muss and fuss required. You've probably looked up 'easy' recipes in the past and realized quickly that they would still require extra equipment, tons of fresh veggies or herbs, and timers set to change the Instant Pot settings as things cook. Not here. We're also focusing on healthy whole food ingredients, but we're not above using simple canned or frozen options over fresh.
Whole Chicken PLUS Chicken Soup
If you love the classic roasted whole chicken for Sunday dinner, consider swapping to an Instant Pot for a simple way to make this classic dish with almost no cleanup. You won't get the same crispy skin on the chicken, but you'll get a perfectly cooked chicken that's still nice and moist, plus zero mess and a tasty broth that can be repurposed for another dinner later in the week.
This will make two meals for three people each.
What you need:
A whole chicken
Bag of frozen mixed vegetables
1-2 teaspoons of Italian seasoning
Bag of small fingerling potatoes
Optional: Any wilting vegetables from the fridge that can go into a soup (skip things like cucumbers and lettuce, but add limp spinach, onions, herbs, or tomatoes)
Optional: Fresh broccoli florets and/or carrots if your kids are fans of either veggie
How to make it:
Add about a cup of water to the bottom of the Instant Pot, then layer your vegetables down, sprinkling with Italian seasoning. Then, add your chicken and however many potatoes it takes to feed your family, plus the broccoli and carrots, sprinkle more seasoning, and pop the lid on.
Use the "Poultry" setting, and you're done! While that's cooking (usually around 40 minutes), you can toss together a simple side salad and/or prepare a simple tasty balsamic vinaigrette as a dressing and sauce. Combine 1/2 cup olive oil, 1/3 cup balsamic vinegar, 1 tablespoon agave or honey, and 1 tablespoon Dijon mustard in a small jar and shake.
Once your chicken is ready, pull out the potatoes and broccoli/carrots as well as the chicken. Carve the chicken and serve with your balsamic vinaigrette or other toppings.
Save the vegetables and the broth that are now cooked at the bottom of the Instant Pot, along with any chunks of leftover chicken, and use this to make a simple chicken vegetable soup by simply heating it up and adding quick-cook rice or pasta to it later in the week. You can also add a small can of tomato puree if you prefer your soups to have a bit more 'body' to them. And feel free to mix this dish up: Swap the Italian seasoning for chili or taco seasoning, then top with guacamole and tortillas for a play on tortilla soup!
Easy Vegan or Vegetarian Chili
With a few ingredients—all freezer and pantry-friendly—you can have chili that's ready to go in under an hour but tastes like it's been simmering for a full day. We love this one because, like the chicken, it can use all the wilted veggies from the fridge plus those stale tortilla chips from the cupboard. You can change out the veggies listed here as well. We like adding frozen spinach specifically because once it cooks in, you won't even notice it's there. And neither will picky eaters.
What you need:
1 large can cooked black beans
1 small can cooked white beans
1 small can cooked kidney beans
Bag of frozen peppers and onions, or fresh diced peppers and onions
Bag of frozen spinach
5 tablespoons chili powder
1 small can pureed tomato
1 large can diced tomato
1/2 cup water
Instant rice
Optional: Chopped jalapeño, any wilting vegetables from the fridge that can go into a soup (skip things like cucumbers and lettuce, but add limp spinach, onions, herbs, or tomatoes)
Optional toppings: Sliced avocado, lettuce, cheddar cheese, plain Greek 2% yogurt, cilantro, tortilla chips, baguette
How to make it:
Simple! Combine all ingredients (except for rice and toppings) in Instant Pot, and set to "Stew."
Prepare the rice as a side or, after the Instant Pot has finished, add it to the chili and keep on low for 5-10 minutes until rice is fully cooked. (Alternatively, you can elect to scoop up chili with tortilla chips or a crusty baguette versus serving with rice.)
Serve topped with avocado, cheese, plain Greek yogurt (a higher-protein, lower fat option than sour cream), and cilantro.
Instant Steel Cut Oats
With an Instant Pot, sweet and savory breakfasts can be made in minutes. And yes, it sounds strange, but oatmeal can be a tasty savory meal as well as a sweet one, especially when using the more grit-like steel cut oats. And the high fiber and high protein steel cut oats, which typically take a long time to cook on the stove, are ready in minutes. Picky eaters who tend to hate oatmeal may find that they tolerate well-cooked steel cut oats since they have a more rice-like texture than their mushy brethren.
If you have picky eaters, we suggest making a batch of plain steel cut oats and allowing your kids to pick and choose toppings.
Sweet options:
Frozen mixed berries (if not cooked in with oats, warm up in microwave)
Peanut butter or sliced almond/crushed walnuts/chopped pecans
Fresh berries
Banana slices
Dried cranberries, goji berries, or raisins
Chopped walnuts and pecans
Vanilla extract, cinnamon
Maple syrup or honey
Savory options:
Bacon bits
Cheddar cheese
Nutritional yeast
Chopped scrambled eggs
Chopped green onions
Salsa or fresh pico de gallo
How to make it:
To serve 4-5 people, combine 1.5 cups of steel cut oats and 4 cups of water in Instant Pot. Add "flavor" toppings like vanilla, cinnamon, maple syrup, salt, or nutritional yeast.
Set to "High Pressure" for 4 minutes.
Once it finishes cooking, allow it to stay on "Warm" for 15-20 minutes to allow the oats to finish softening and cooking for the best texture.
Add toppings and enjoy!