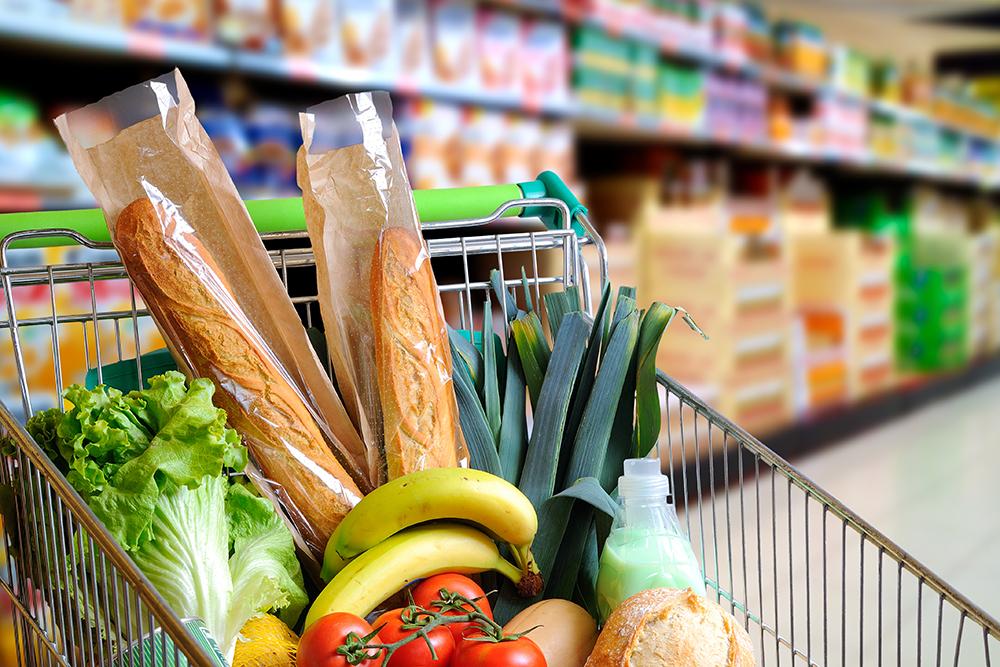 School-aged athletes work really hard and eat massive amounts of food. And keeping your athlete fed isn't just important for performance at practice or in a game; well-fed kids are more attentive in class, better able to focus on schoolwork, and they are getting the nutrition and energy they need to grow and develop. As a parent, however, it probably feels like these ravenous kids are eating you out of house and home. As the grocery bills start to stack up, here are ten tips for feeding your student athletes nutritious food without breaking your budget.
Plan menus and make a list: Plan menus and write a shopping list that corresponds with the store aisles. Look for menu planning and recipe help on your supermarket's website.
Use coupons and rewards cards: Clipping coupons or printing them from websites can save you 10-15% on your grocery bill. Also, consider joining your supermarket's shopper's club.
Buy store brands: Private label brands are 15-20% less expensive than their national brand counterparts, and the quality of the food may match the national brand.
Buy on sale and in bulk: Cruise the aisle for sales on shelf-stable items or products you use regularly. Buy larger quantities only if you have proper storage space and will use the food before it spoils.
Compare unit prices: Use the "unit price" (price per pound, ounce or pint) on a shelf tag to compare national brands with store brands, or bulk and economy-sizes with single-serve or regular-size packages.
Read food labels: Compare nutrients using the % Daily Value in the Nutrition Facts Label. 5% or less is low – try to aim low in saturated fat, trans fat, cholesterol, and sodium. 20% or more is high – try to aim high in fiber, vitamins and minerals.
Shop the perimeter: Fresh produce, meats, dairy, and breads tend to be on the outer perimeter of supermarkets. Start there before hitting the inner aisles for other necessities. For produce not in season, frozen and canned fruits and vegetables (with little or no added salt or sugar) are a nutritious option.
Shop seasonally: Fresh produce often costs less when it's in season. Visit a local farmer's market or join a produce club to take advantage of seasonal fruits and vegetables. For produce not in season, frozen and canned fruits and vegetables (with little or no added salt or sugar) are a nutritious option.
Keep foods safe and prevent food waste: Use dating information ("sell by" and "best used by") to select the freshest foods at the market. Put cold and frozen foods in your shopping cart last and store them right away in the refrigerator and freezer once you're home, with the oldest "sell by" dates to be used first.
Pay attention at the check-out: Make sure prices ring up as advertised or as indicated on the shelf label, especially for sale items.
Remember the Food Groups 101
Produce: Seasonal produce usually offers the best value for your money. However, if not in season, canned or frozen fruits and vegetables may be more economical.
Grains: Count on whole-grain breads, cereals, pastas and other grain products to add variety to your meals at a low cost. Buy in bulk when possible and cook them yourself rather than buying quick-cooking or pre-seasoned varieties.
Dairy: Look for special sale promotions for milk, cheese and yogurt. Avoid purchasing more than you can use by the expiration date.
Protein: Calculate cost per serving, not cost per pound, when buying meat, poultry, eggs, and fish. Eggs, chicken and turkey are usually your most economical choices. Also consider alternative sources of protein like beans, peas, peanut butter and nuts.
Material revised from the Academy of Nutrition and Dietetics, www.eatright.org.