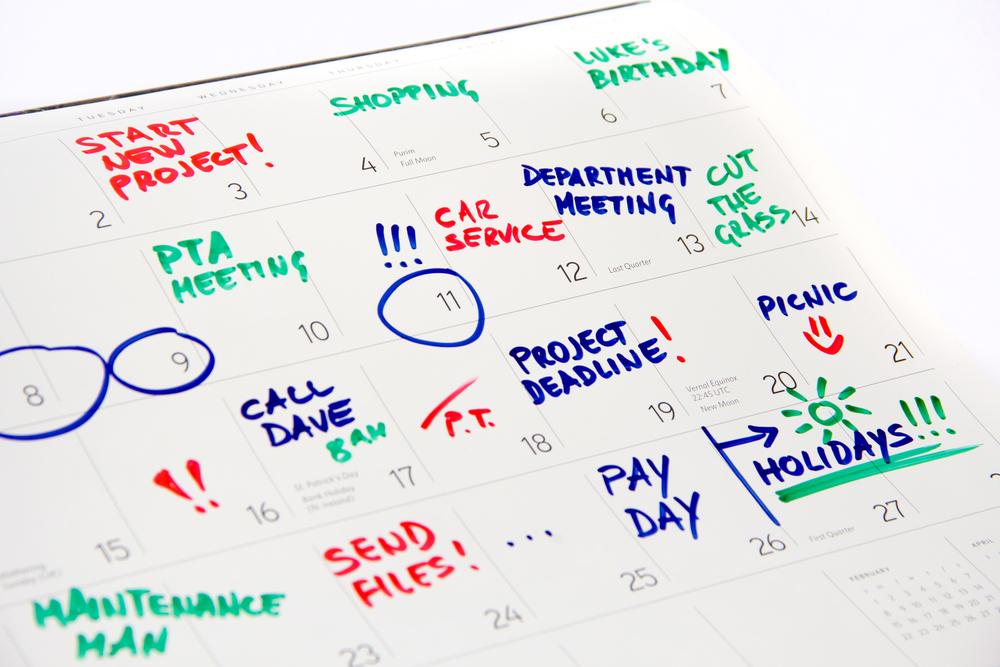 There are so many extracurricular activities available for young people now, including youth sports, art classes, religious schools, STEM activities, music lessons, language, and the list goes on. What educators have learned over the years is that young people stay out of trouble when they are involved in co-curriculars. They learn new skills, become physically and mentally stronger, and discover their passions. As parents, we want our children to thrive and find their passions, as well as learn social skills and build strong relationship with people who have common interests.
As the seasons move from winter to spring and warmer weather makes more outdoor sports opportunities available for children, parents need to make sure we can help them find a balance between schoolwork and all of those fun activities they are interested in and driven toward. Here's a way to do that:
List and Rank the Options
Start off by sitting down with your child and creating a list of activities in which they are interested. After you jot down all of these activities (or if your child is older, they can make the list), categorize the activities with a number system that re-lists the activities in order of importance. If you use a 10-point scale, one might mean: "I'm interested, but can live without it". Five might mean: "I enjoy this activity but can live without it". Ten might mean: "This is really important to me, and I'm not sure I can live without it". Come up with a creative system that will resonate with your individual child.
Establish Non-Negotiables
Once your athlete has his or her list, you can present them with a short list of non-negotiable things that must take place during the week. After school sports or an evenings-and-weekends sports league might be high on your child's list, but if the team practices every Tuesday night and you have another commitment that can't be moved, then your child will need to consider other youth sport options.
In addition to non-negotiable events, there may also be non-negotiable outcomes. For most families, academic success comes first. If youth sports are getting in the way of academic successes, a non-negotiable outcome may be that they are no longer allowed to participate.
Discuss Your Limitations
This is also a good time to talk to your child about your budget, and what your family can comfortably afford. This may mean that out of the four activities they are interested in, the family budget only accommodates two. Some sports are more expensive than others, due mainly to equipment costs. As a result, some youth sports programs have a supply of loaner equipment to help kids try a new sport and see if they like it before parents need to purchase specialized equipment. It is okay for young people to know there are parameters around cash flow, and in the long run helps kids learn to set priorities and understand budgeting.
Involve Kids in Making the Schedule
Once you have established your family's priorities around school, money, and other aspects of your schedule, focus on the activities that are at the 10-end of the scale, do a web search to see if those activities fit into your family schedule, and get them on the calendar.
Making sure that your child participates in most of this process is essential. Kids are more likely to stick with a sport – or any activity – when they have some ownership over their decisions. Involving kids in the whole process also sends a strong message that you are really listening to their needs and wants.
Signs Your Child is Overstretched
It's important to know if your child is stretched too thin from their new schedule. Keep an eye out for these signs:
If you see restlessness and inability to focus on everyday tasks, classwork, or chores
If they are strangely impatient or short with you during a non-confrontational conversation
If they start to get sick (like a common cold)
If you find that they are struggling to keep up with school work, or they never have time to sit and watch a movie, or go play outside.
Adjustments That Help Your Child Thrive
When children start a new sport you may need to make some shifts in your already-established schedule. For example, you may need to change bedtime, change time available for certain activities, and provide downtime when there's nothing scheduled. Making sure young people have enough time to get their homework done, a little time to practice their trombone, time to just sit and read a book, and time to go outside and play with the neighbor kids is essential.
Pay attention to calorie needs. More activities means greater energy expenditure, so it's important to ensure calorie intake supports their new schedule. If you're finding you're dealing with more tears and more conflicts at home, or if kids are having a harder time getting to sleep, consider whether hunger is playing a role.
Kids don't come with fuel and fatigue gauges, so there's a lot of trial and error in finding the right balance. Having a few healthy snacks stashed in your car or in your son or daughter's backpack or gym bag, and adding a little extra fat and protein at meal times can make all the difference in helping a child thrive with a busy and active schedule.
When It's Just Not Working
Sometimes, despite best intentions, kids get in over their heads and there's simply too many commitments on their plate. If the adjustments above are not resolving the signs your child is stretched too thin, here are your next steps:
Take a break, but don't quit: In youth sports and after-school sports it can be difficult to sit out for a little while and then return to the team, especially because some coaches have rules that don't allow athletes to play unless they attend all practices. Nonethless, it's a good idea to consult with the coaches. At the end of the day they want your child to be successful on and off the field.
Pull the plug, for now: As beneficial as youth sports are for kids, health and education are higher priorities. On one hand, it is important for kids to follow through on their commitments to a team and an activity. On the other hand, it is also important to learn when continuing does you more harm than good. When concerted efforts to adapt schedules, diet, and sleep are ineffective, pulling out of an activity may be the wisest option.
There's a limit to how much any of us – adults or kids – can pile into our schedules. Adults have learned where our limits are (for the most part) and we have the autonomy to make choices if we get overloaded. Young athletes have neither the experience to know where their limits are, nor the decision-making ability to make appropriate changes. But hopefully with the tips and strategies above, you can help your young athlete adapt and thrive with a challenging schedule.