Growing up in an athletic household may sound intimidating, but for Richard Torrez Jr., Team USA super heavyweight boxer, 2018 Elite National Champion, and TrueSport Ambassador, it was an environment that taught and motivated him to become the resilient athlete he is today.
"Through sport, my dad really wanted me to learn that no matter how good you get, no matter how tough you are, someone can hit you and it will hurt. Boxing is a humbling sport, but it's also a sport that teaches you to be driven in everything you do. No matter what, there's going to be some guy in there competing with you, so you have to try just as hard, or even harder."
It's no surprise that with the dedication and hard work he learned through sport, Torrez Jr. also graduated at the top of his high school class as the Mission Oak valedictorian. But, he says he can't take all the credit for his excellence in sport and academics.
"My parents define success as education. Both of my parents were teachers. My dad is now a vice principal, and my mom teaches at the local jails. Everything is education first. If I didn't have my dad pushing me, or if I didn't have my teachers' support when I left for Nationals and when I left for World Championships, I might not have graduated high school. Without them, I wouldn't know what I'd do."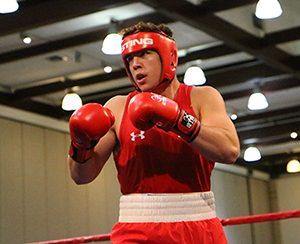 In addition to helping him achieve academic and sport excellence, the community Torrez Jr. has cultivated encourages him to continue to set high goals for himself and to never lose sight of the big picture when he encounters a setback.
"My parents have a better view of the big picture than I do. I'm the one that takes the win and losses pretty hard, and my parents are the one that are like, 'Hey, calm down. You still have 2020, you still have this in the future. This isn't the end game. This is just a battle, not the war.'
Whether it's skills and drills or life lessons, role models are helping shape Torrez Jr. into a resilient leader in and out of the ring.
"Some of the life lessons I've gotten from my coaches are to never give up, always do your best, and when all else fails, just try. There have been times in my life where I thought I had no chance of winning, but in moments like those, you just have to go out there and give it your all. There's no point in giving half of your best. There's no point in doing half the work. It's always best to give your all or nothing."