One of the more challenging aspects of sports is the mental game of managing expectations around performance. Young athletes often deal with the expectations of their parents, coaches, and teammates. Or, if they're anything like Olympic gold medalist Melanie Margalis, those high expectations may come from an even bigger critic – the athlete them self.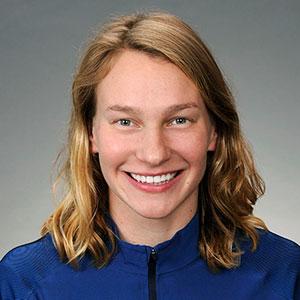 Growing up as the youngest of three children, Margalis followed in her siblings' footsteps and began swimming as a child.
"It's something that just happened because of my older siblings. I had to go to the pool with them every day, and for a long time I wouldn't get in. I would just wait for them to be done and then we would go home. Finally, another girl got in to swim and one day she got me to get in the pool with her, and then that was pretty much it."
Margalis' older siblings, Robert and Stephanie, were both accomplished swimmers who went on to compete in college. Watching Robert at the University of Georgia and Stephanie at the University of South Carolina was the start of Margalis' expectations that she too would have a future in college swimming.
"Having my older siblings that were eight and 10 years older than me go on to swim in college when I was just a kid influenced me in thinking, 'Oh this is what you normally do. Right? You do a sport and then you go to college and then you do that sport,' which I don't think is really the case. But as a kid, I just saw that, so I thought, 'Yeah, that's what you do.'"
Margalis attended her brother's alma mater and began swimming for Georgia, where she faced the expectations that came from being 'Robert's little sister' and being on a high performing college team.
"I felt that I had to prove to the coaches that, 'Hey, I'm this swimmer. He was that swimmer, but I'm this swimmer.'"
On top of breaking out of Robert's shadow, Margalis struggled to find her own identity and define success on a new team.
"One of my coach's parting words to me before I went to college was: 'The swimmer that you are right now doesn't mean much to Georgia.' I thought, 'Okay.'
He continued to say, 'It's a really good program, and they have really great swimmers there. You really have to go there and prove yourself. Remember that. You have to go there and work really hard to be a part of the team.'
I wanted to prove that I could be a part of the team when I went to Georgia."
Margalis grew as a swimmer in the Georgia pool, which wasn't a feat she achieved alone.
"My teammates really helped me overcome a lot. They would mention that they've seen the work that I put in, and it helped so much.
Back in 2016, one of my teammates said, 'You've done everything that you can do to make the team, and I have full confidence in you to make the Olympic team.' That helped me because you can feel in yourself, 'Yeah, I'm doing everything that I need.' And, it's that little reassurance from other people to make you realize, 'Wow, they see it too. They're noticing it too!' Having my friends and teammates encourage me like that has been so important to me over the years."
With all of this in mind, Margalis was able to define her own expectations and understanding of success.
"I know when I stand behind the blocks, and I'm confident and I feel like I've done everything, that's when I'm thriving the most in my races.
I believe so heavily in the mind–body connection, and I believe you tell yourself in your mind that you can do something, your body's going to do it. Especially in practice, too. Sometimes we're doing crazy practices, you have to think, 'No, I can do this.' Once you realize how much the body and mind are connected, it's all about positive self-talk. Keep the mind-body connected, keep that mental toughness, and it will all keep working in your favor."
Margalis acknowledges that not every day is going to be a good day when you're training and not every race will give you the results you want, but even in those tough times, hard work and perseverance are the expectations that usually pay off.
"How you think and how you really present yourself when you're down is what's going to help you build yourself back up. Don't think that just because you've had a bad week of practices that your whole sports career is over."
Speaking from experience, Margalis' advice for young athletes is to shift their mindset when it comes to high expectations and feelings of failure.
"For young athletes who feel like they're having a setback or feel like they're not achieving the results that they want, remember, your hard work is always going to show at some point. It might not show when you're expecting it to, but your hard work never goes away.
I've had years when I don't go best times at my best event, but I know that I worked to be better than what I've been. I don't give up on it. I always believe in myself. And the belief in yourself is what's going to keep pushing you forward. You might have one season where you're off, but that doesn't mean that you're never going to have an 'on' season again. You just have to keep pushing forward."
Overcoming expectations might seem like an enormous mountain to climb, but as Melanie has demonstrated time and again, especially with her gold medal performance at the 2016 Olympic Games, it's possible to go above and beyond.