There's something special about athletes who have persevered through long, competitive careers.
Through wins AND losses. Through doubt, strategy changes, and waves of new competitors.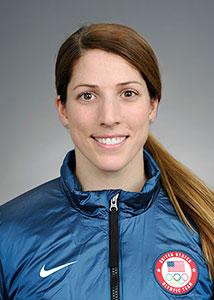 Erin Hamlin, four-time Olympian and the first ever female American luge Olympic medalist, is one of those athletes.
"It took a long time to build the confidence to be sure of myself every race," explains Hamlin, who was also Team USA flag-bearer at the 2018 Olympic Winter Games in PyeongChang. "It takes a long time and that's why luge careers tend to be lengthy, because experience plays such a huge role in success. Even to just have the mental capacity, physical ability, and dedication to something for a long period of time, that's a huge accomplishment."
After an outstanding 20-year career in luge, Hamlin still remembers the moment the fire of the Olympic dream was lit for her.
"Once I got into the development program, I stayed at the Olympic Training Center right away. They tell you that there's 60 kids in the developmental program, and maybe two of you will make the Olympic Games.
When that happened, my competitive edge kicked right in and I was like, 'Okay. Game on. I want to be one of those two.'
From those first moments of being in the Training Center I thought, 'I belong here, and if I belong here, guess where that's heading? To the Olympics someday.'"
It's that drive that has pushed Hamlin to "put the work in, understand it's not always going to be easy, and know that there's not going to be someone there every second of every day to make sure everything's going perfect."
_____
Hamlin attributes her growth in her sport to her youth experience as a multi-sport athlete.
"When you're young and growing and still developing, playing multiple sports is huge, especially in my career. It kept a good balance for my body. It evened out my strengths. Since I didn't have a slim focus on one thing, it helped me in the long run. When I got into luge, I wasn't necessarily amazing at a lot of the strength areas, but I had a good background to work off."
Hamlin's early years in sport didn't just help her physical development as an athlete, it also planted the seed of strong mental toughness that helped her move into higher levels of competition.
"My foundation in gymnastics gave me a good base as an athlete in a sense that the dedication I learned in gymnastics taught me how to be committed to what I was doing. My experience in youth soccer and track taught me that if you put the time in, you're going to see the results. Holding yourself accountable to your team teaches you that you need to be able to pull your end of the bargain and put the work in."
From gymnastics, "I also learned how to fall a lot. And I think having that experience at a young age really gave me the confidence I needed to handle high pressure situations and it helped me develop a strong work ethic of keeping myself accountable to my training."
_____
A 13-year veteran of the World Cup circuit, Hamlin's understanding of both commitment and balance has kept her so on top of her game that she didn't miss a single race while on the tour.
"I've tried to keep my overall training, nutrition, recovery plans simple throughout my whole career and that has allowed me to keep my performance consistent.
I just keep it simple: eat healthy and keep everything balanced. It's listening to your body and doing what you need to do, but not go overboard. That was a really important piece for me to sustain my entire career."
By continually evaluating the results of her training and nutrition, Hamlin was also able to set informed and expanded goals for herself. Her discipline and commitment took her through good times and bad.
"In my whole career, I was constantly setting goals for myself and would regularly achieve them, whether it be achieving overall results every year or making a certain team. But there were tougher times.
The biggest moment that stands out to me was at the 2010 Olympics. I was going in as world champion. I had potential to get on the podium at the Olympics and it seemed like that everything was turning into this perfect scenario at the Games – I loved the track, I had my best season to date at that point on the World Cup Tour, and I'd gotten on the podium for the first time. It was a positive build up to the Olympics, but I did not perform at the Games. I ended up finishing sixteenth."
Although it was a devastating blow at the time, Hamlin was motivated to continue to compete.
"Even though the Olympics were bad for me, my season leading up to that and where I was at in my career, I was doing really well, and I felt like things were in a good place.
That's when I just put my head down and got some grit and kept going, and the consistency came back with my results and sliding. Eventually things turned out pretty good. After that moment in Vancouver, I questioned everything. But thankfully I stuck with it."
_____
Experiencing failure and consistently working to improve herself was part of Hamlin's progression in finding the success every Olympian hopes to achieve.
"When I walk away from a race, whether it's good or bad, especially when it's bad, I try to find one thing that's positive – something I can take and learn and grow from and move on.
I can't change the past weekend's results. They don't have to affect my next race. I'd have another chance to do better. Keeping that mindset was big."
It was that mindset that eventually earned Hamlin the first ever medal for a U.S. athlete of any gender in the singles luge event, which she did at the 2014 Olympic Winter Games in Sochi, Russia.
"To be the first woman to get a medal and break that barrier was bigger than just being the first singles athlete because it shows the next generations of female athletes who are getting into this sport that we can compete with the best in the world.
For so many years, it's been so hard to convince little girls to get into this sport where no one has achieved that level of success, so to be able to do that and pave the way and break into that top echelon of athletes in my sport and open the floodgates for others is pretty cool."
_____
Hamlin has high hopes for the next generation of athletes and wants them to remember that they need to find that fire within themselves and to go after what they're passionate about.
"I never set out to be the first at anything. I had success ahead of that Olympic Games, but it wasn't expected at that point. I just wanted to race well, go fast, and hopefully win.
So, set goals for yourself and even through the toughest days, stick with it.
If you're passionate about something and you have the right people surrounding you, you should be able to get there. Just power through it."