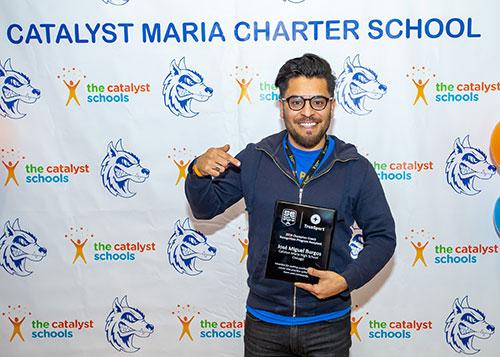 Passion, focus, hard work, and community. That's the teaching philosophy that the head soccer coach at Catalyst Maria High School in Chicago, Ill. – and recently recognized inaugural Champion Coach of the SportsEngine, Inc. and TrueSport award program – lives, breathes, and firmly believes will enhance the performance of his athletes on and off the field.
Coach José M. Burgos grew up in Chile, where soccer is both a well-respected national activity and a sport that creates opportunities. For Burgos, that opportunity meant pursuing his dream of becoming a professional soccer player, which led him to first land a scholarship to play soccer in the United States. That experience helped him finesse his skills and further stoked his passion for the sport. Burgos then took that love for soccer and his appreciation for the doors it opened to eventually pursue a profession as a soccer coach.
Looking back, Burgos attributes his commitment, inspiration, and purpose as a coach to his own soccer coaches who supported him as he progressed through sport.
"I found very good coaches that served not just the purpose of training me, but they became almost father figures that were not present at that moment because I moved out [to pursue soccer as a profession].
Both my coaches, Carlos Gonzalez and Fernando Perez, were able to make the process better. It's difficult growing up to become a professional player…I needed to dedicate all my time to training, and taking care of my nutrition, taking care of my mind and my body. Finding coaches who could be extremely good coaches, and also extremely close to my emotions inspired me and serve as a foundation to the way I treat my players."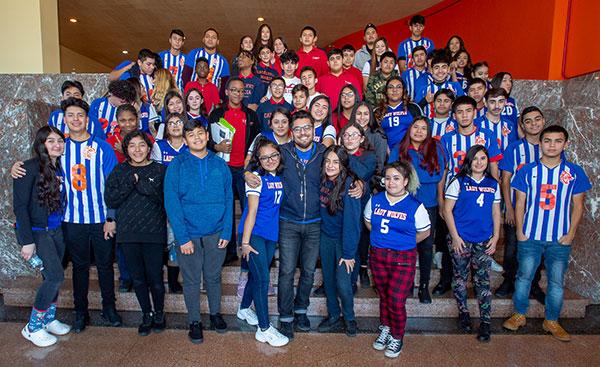 As a coach, Burgos is a steadfast champion of setting the foundation of "a different kind of team," one that challenges student-athletes to "be stronger, care harder, love deeper" – all characteristics that lead to "empowerment, high academic standards, and love for the sport."
"We're not just machines and we have feelings. We're very emotional beings. Most of us athletes, or former athletes or coaches, have some aspect of art inside of us. We win and we lose, and sometimes we feel empty afterwards."
In the words of Joel Farran, one of Burgos' supporters, "Even in loss, Coach José searches for the lesson and teaching opportunity to become a better player and a better human."
"If your coach decides to be authoritarian, or if he decides to apply tough love on you, then we're now creating a scenario where I don't think the toughest survive, but those who are just willing to put up with it," Burgos explains. "And it shouldn't about that, it should be holistic.
My coaching style is about emotions. At the high school level, it is very important to keep the kids in the right mindset. It's important to remember that [the athletes are] not there to perform at the same level that we see on TV, or that we see on magazines. If they do, that's wonderful. But a lot of times, coaches' expectations are too high and that creates stress, and then the stress is shown to the kids. To me, it's not about that.
Players are supposed to be loved so they can win. They're not supposed to be loved because they win. The level of commitment, the connection that we have between us, goes beyond winning or losing. I am a strong believer in the idea of enjoyment behind the will to win. We should talk about what brought us onto the field in the first place."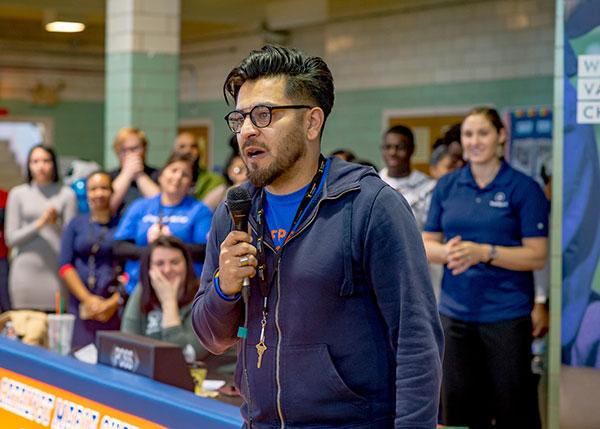 Burgos' enthusiasm for being a consistent role model when it comes to the development of the whole athlete is immanent. What Burgos constantly reminds players and parents is that winning is not the end all, be all to sports. Sports is a vehicle that produces something bigger than points scored or trophies won. Sports is a way to develop good people and stronger communities.
"I work as a head coach of a school in the south side of Chicago and we have tremendous problems here with gang violence and gun violence – issues that we can combat with sports. I believe that deeply. It's easier to say, 'No,' to a party or to some temptation if you're committed to what you're doing. I remember that I was invited to many parties and I knew that I couldn't go because I was committed to something that was bigger than me."
That 'something bigger' refers to the communities he continues to build around him with the shared goal of striving to be better, both as an individual and together as a team.
"I like the idea of building things together. I like the idea of achieving goals together. I think what attracted me [to soccer] most was its ability to bring people together.
When you're dealing with young athletes, it's important to know where they come from and who is behind them, and what their agenda is as well. Not just in a superficial way. I realized quickly that when you involve the parents, particularly in communities where there is so much stress, they become committed. They commit to it, they're cheerful, they're positive, you give them a sense of a purpose."
As Burgos looks to the future, his purpose remains the same: to embrace his role as a coach and mentor who encourages his athletes to trust themselves to make the right decisions, be accountable for their health and safety, take responsibility for what they can control, and stay resilient in the face of adversity.
"We have to be able to get up every time we fall. Life is just about getting up. I'm not that old, but I'm old enough to know that life will throw curve balls – so as soon as you fall, get up. The faster you do it, the better off you will be. And, you will, inevitably, fall again, but I want you to get up fast knowing that you're prepared to face whatever it is that comes next."