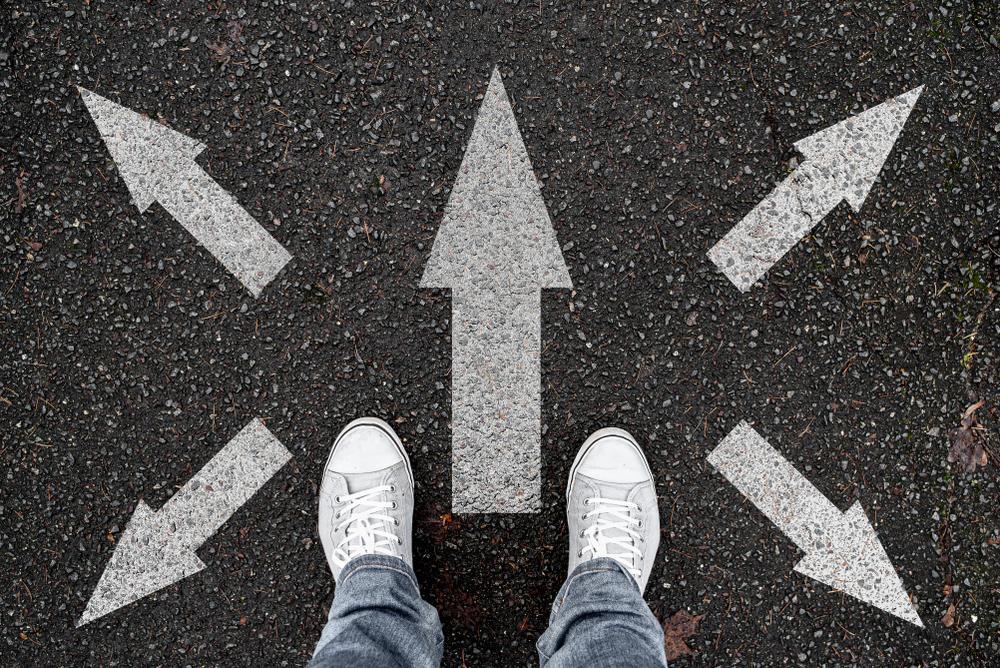 It's well known that today's teens are oriented towards 'the now' and tend to be more reactionary than judicious when it comes to decision-making. Scientists have discovered that a human brain reaches maximum size during the teenage years (ages 12 -14), yet development of the brain continues for approximately ten more years.
What does this have to do with making decisions? The primary region of the brain used for planning ahead while weighing risks and gains, the prefrontal cortex, is not fully developed in adolescents. Thus, the faster-maturing limbic system, which house the emotional control center, takes the lead with decision-making in teens.
This information does not offer a remedy, but it does help explain why an adolescent sometimes makes an impulsive decision that leads to serious ramifications. Since an adolescent's brain is 'under construction,' it is also worth noting that his or her choices and behaviors during this critical time can in fact 'fine tune' the brain, helping to shape their minds and future decisions.
SIX STEPS OF THE DECISION-MAKING MODEL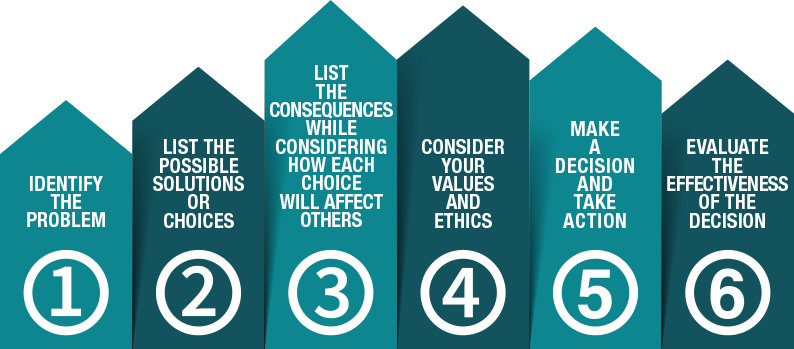 Values provide a personal sense of what is right or wrong and tend to influence your attitudes and behaviors while helping to shape your overall character. Some examples of values include integrity, honesty, respect, compassion, responsibility, trustworthiness, and fairness.
Having ethics means having a set of standards or moral principles that you can use as a guide to reach a decision. Ethics are consistent, impartial, motivating, and they are meaningless without action.
In making an ethical decision, it is important to consider how the decision will affect those involved. Because Western society is me-first-oriented, it is extra important to teach ethics and how decisions impact others. Consider your values and ask if the decision exemplifies any of them, like trust, responsibility, fairness, respect, trust, or accountability.
It is important to choose good role models, people you respect and trust to do the right thing. They may be someone famous or even someone you personally know, but they should possess similar values to your own. Keep in mind, too, that you are a role model for others and your reputation is impacted by your decisions. Your reputation, a reflection of your character, can take years to establish and only moment to ruin.
Quick Tools for Decision-Making:
Spotlight Test: Before you make a decision, imagine a beam of light shining on you that allows the important people in your life to observe your actions. Would you still make the same choices?
Role Model Test: A role model is someone you know and trust to do the right thing, like a parent, sibling, teacher, coach, or friend. Before you make a decision, ask yourself what your role model would do in the same situation. Would you still make the same decision?
Pause First: When faced with a tough decision, it is important to pause and think about the consequences before reacting to the situation. Often the mere presence of time offers an opportunity to ponder all possibilities, evaluate the emotional influence, consider your reputation, and make a wise choice.