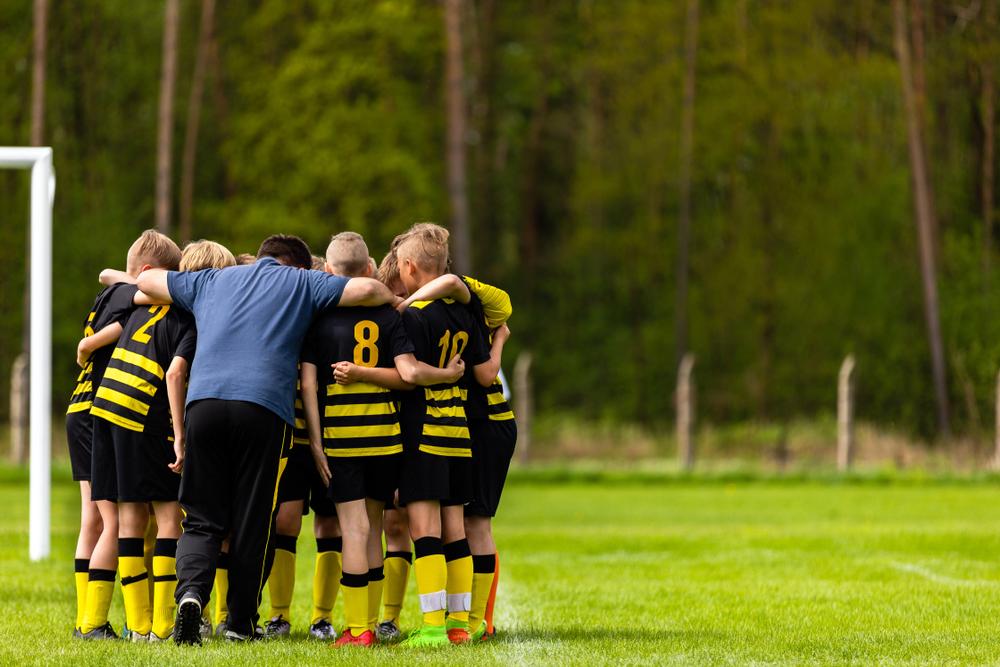 For most athletes, their coach is one of the most influential people in their life. According to USADA's What Sport Means in America survey, coaches rank as the number one positive influence on youth today among the respondents surveyed.
At their best, coaches can help their players improve their skills, perform to the best of their ability, develop strong character, and gain confidence. At their worst, they can push the psychological, emotional, and physical limits of their players to the point of harm, create a hostile and unfair environment, and turn young athletes away from playing sports forever.
Being a coach that has a positive influence and not a negative one requires mastering a balancing act of a number of different skills and perhaps most importantly, staying accountable to your own good coaching principles.
The Many Roles of a Youth Sports Coach
The coach's job is a complicated one. Surveys of youth coaches show that they often play the role  as instructor, teacher, motivator, disciplinarian, substitute parent, social worker, friend, manager, therapist, and fundraiser. In addition to wearing all of these hats, coaches should also have an understanding of their athlete's developmental stages and limits in order to tailor practices and playing time toward them appropriately.
Coaches are expected to have an in-depth knowledge of the sport they are coaching, including the rules, skills, and techniques. At more advanced levels of competition, they also need to understand basic kinesiology, sport psychology, nutrition, and first aid.
Yet the average volunteer coach of a community team has little training in any of these areas. In addition, Gilbert and Trudel found that most community coaches became involved in coaching simply because their children played the sport. This means that they are likely to drop out of coaching once their children are no longer involved.
Investing in Yourself Means Investing in Your Athletes
Only a few states require coaching certifications for those who work in school systems. While they may have been coached in their sport, they might never have actually coached others before, and may have learned their coaching skills only by observing other coaches. Research by the Michigan Youth Sports Institute has found that volunteer youth coaches have little knowledge of sport safety, training and conditioning, and child development, despite the fact that many of the surveyed coaches have previously asked for effective instruction.
While it can be tough for part-time and volunteer coaches to find time to do so, there's perhaps no better way to increase your influence on athletes than by seeking out formal coaching training. Studies done by the Coach Effectiveness Training program show that children who have a trained coach:
Show greater self-esteem at the end of the season than children who are not coached by a trained individual

Continue to play on a given team for longer compared to children coached by untrained individuals

Report lower anxiety levels

Are less likely to quit their sport due to disliking their coach
Additionally, research by Diane Wiese-Bjornstal suggests that the thoughts, feelings, and actions of girls that play sports largely depend on the influence of coaches, gym teachers, and exercise leaders.
—
Perhaps counter-intuitively, taking time to make yourself a better coach will improve your ability to build better teams.
In a summary of team-building research, Bloom et al. found that team-building activities can have positive results with elite sport and high school teams. Athletes who participate in team-building activities directed by their coach report higher perceptions of self-worth, athletic competence, physical appearance, and social acceptance.
These structured exercises don't just benefit athletes, however. Coaches themselves report improving their own communication and motivational skills as a result of these types of activities.
Even if you're just a volunteer, making these kind of learning investments and treating coaching like you would any job can help create a team environment that will make kids want to keep participating in sport long after your coaching days are over.
—
This text has been modified from its original version found in the True Sport: What We Stand to Lose in Our Obsession to Win report (p. 55-58)
Bloom GA, Loughead TM, Newin J. Team building for youth sport. J Phys Educ Rec Dance. 2008; 79(9):44-47.
Gilbert W, Trudel P. An evaluation strategy for coach education programs. J Sport Behav. 1999; 22:234-250.
Hedstrom R, Gould D. Research in Youth Sports: Critical Issues Status, White Paper Summaries of the Existing Literature East Lansing, MI: Institute for the Study of Youth Sports, Michigan State University; 2004