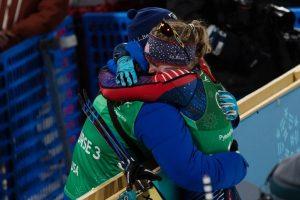 For Olympic Gold Medalist Jessie Diggins, when it comes to sport, it's not always about winning.
"I've got to say it's cool, but the medal ceremony lasts 10 minutes, and then it's over. It's done. That's it."
As she reflects on her journey to a historic gold medal win in the cross-country skiing team sprint at the 2018 Olympic Winter Games, Diggins attributes her success in sport to the positive culture that supported her from youth level to national team.
Within her community she boasts loving pride for her family, her hometown of Afton, Minn., her coaches, and her teammates.
"We've always focused on doing things the right way and competing with integrity. I've learned through my community and through racing, to find success, you have to give it absolutely everything you have. If you try as hard as you can and you don't hold back, you know you gave it your best shot. That is succeeding and you can't fail that way."
It's that mentality that pushed Diggins to reach elite levels of competition. At age 11, she began competing against high school athletes. By the time she reached seventh grade, she had qualified for the state high school meet.
When Diggins hit high school, her coach Kris Hansen continued to foster a positive sport experience for Diggins and the rest of the team by providing them the opportunity to stay grounded and focused, while tuning out the expectations of winning to keep sport fun.
"My high school coach really helped me by having me think about three things I did well during a competition, and a couple things I could improve on, after I finished every race, but before I saw the results. Because even if you have the best race of your life, there's always something you can do better. And even if you have the worst race of your life, there's always something that you did well."
"She would have me think about those things, and then I could see the results. By practicing that, I didn't attach my worth to where my name landed on a number sheet."
"That's something I think can help kids, because every single game you play, there's going to be parts of it that you did extraordinarily well, and there's going to be things you can learn from."
Diggins believes finding success in sports, especially youth sports, comes down to three things: 1) Effort, 2) Positivity, and 3) Pride.
"It's not, 'Succeeding is winning and everything else is failing.' Sometimes when you give it your best, you do win. And, sometimes you don't. You can still be proud of the effort that you gave."
Diggins has always worked to improve her game with integrity while holding tight to her belief that sport is meant to be fun. She learned this from her high school coach and has experienced it from the mentorship that she found as a junior athlete on the national team.
"When I was about 16 years old, I was at a training camp. One of my teammates, Liz Stephen – she retired this year – was doing some easier intervals, and I asked if I could follow her. She said, 'Yes, of course. Jump in behind me.'"
"I was hammering as hard as I could to keep up with her. It was possibly the hardest thing I'd ever done in my life up to that point, but at the end of the workout, she turned around and said, 'Hey, that was really fun. You did a great job. Thanks for doing that with me.'"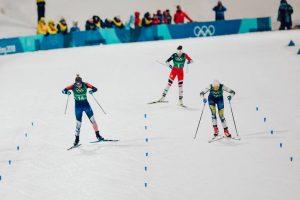 "It meant so much to me, and it was just the littlest thing from her, but I thought about that every time I went and did a hard workout. The entire year, I'd think, 'Oh, Liz believes in me.' I would pretend that she was in front of me and I was chasing her down, trying to stay with her, and it was so cool for me as a junior skier."
Diggins' love of her sport is abundant and her positivity is infectious as she colorfully displays her team spirit. And, just as Steven shared an unforgettable sport experience with Diggins as a junior athlete, Diggins continues to keep the spirit of her sport alive by heading back to her hometown every year to workout with her high school's cross-country team.
"If you're an older athlete and there's an opportunity for a younger athlete, have them jump in behind you or say a few encouraging words, because I think that always goes farther than you know."
As Diggins climbs to the top of every young cross-country skier's list of sport idols, she is embracing her new status as a role model for young athletes. It's a role that suits her positive outlook well.
"If you love what you're doing and you're having fun, then it's going to get you where you need to go. The reason I'm still skiing and the reason I've found success in sport is because I think it's really fun."
"It's the memories of training with your teammates, running in the mountains, skiing in the mountains, lifting, and getting all sweaty in the gym, that you're going to have with you your entire life."
"That's what you end up remembering – the people that you're with in those moments, more than the actual medal or any race that you win."