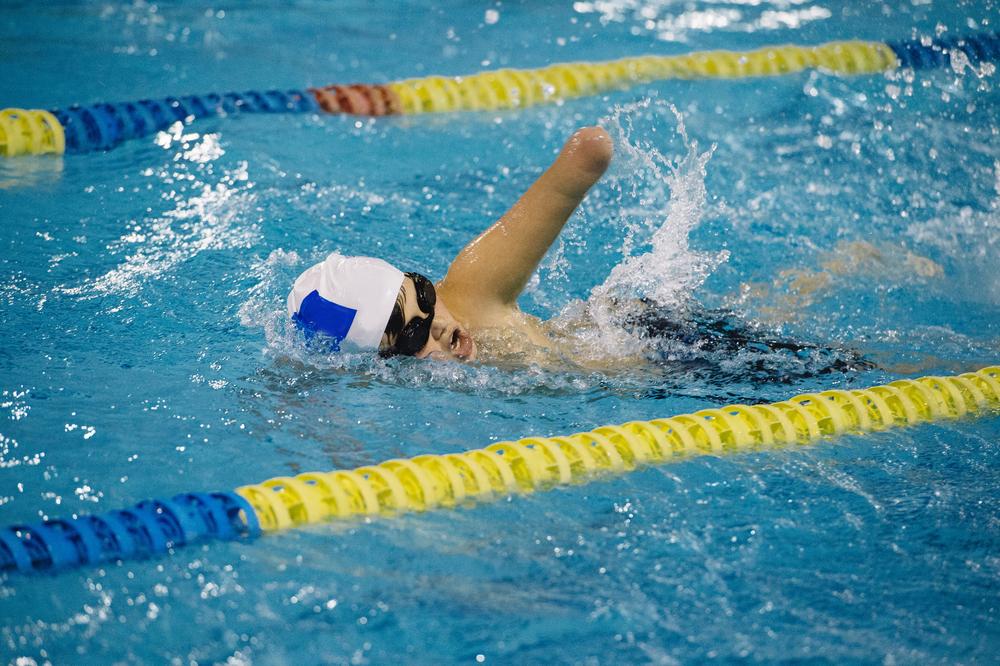 We live in a diverse world of people. With over 60 million people with disabilities in the nation, there's a good chance you have an athlete with a disability in your community. As sport continues to evolve to include more athletes with disabilities, it is becoming more and more imperative that we all learn disability etiquette.
TrueSport has partnered with Disabled Sports USA (Move United), the national leader in community-based adaptive sports, to help create a more positive and inclusive sport environment for all youth. This starts with the simple recommendations below from Disabled Sports USA (Move United) on how to best interact with and support people with disabilities.
______
General Best Practices:
Use person-first language to put the athlete first.
| | |
| --- | --- |
| People-First Language | Language to Avoid |
| Person/Athlete with a disability | Disabled or handicapped person |
| Person/Athlete who uses a wheelchair or scooter | Confined to a wheelchair, wheelchair bound |
| Person/Athlete with an intellectual or cognitive disability | Special, mentally retarded, slow or simple person |
| Person/Athlete with multiple sclerosis | Afflicted by multiple sclerosis or "victim" |
| Person/Athlete with a mental health condition or diagnosis | Mentally ill or crazy |
| Blind or low vision | Visually impaired |
| Deaf or hard of hearing | Hearing impaired |
Don't assume

Ask how you can help instead of making assumptions about what an athlete can and cannot do. Avoid the urge to help simply to speed up processes. Instead, build in extra time for the athlete to get equipment set up or complete a skill progression. Some athletes may need more time to think or speak, so be patient when waiting for a response.

Don't ignore

Take the time to get to know your athlete and how their disability might affect their participation and make appropriate and reasonable modifications.

Ask prior to moving or touching equipment

Understand that an athlete's adaptive equipment, such as a wheelchair, walker, or cane, is part of their personal space. Only adjust the equipment if requested, as unexpected shifts could cause the athlete to become off balanced and cause injury.
­­­
______
Communication Best Practices:
Do:
Speak directly to the athlete using your regular speech patterns. Only speak louder or slower if requested to do so by the athlete.
Face the athlete when speaking and try to avoid blocking the mouth or chewing anything so that those who are deaf or hard of hearing can clearly see your lip movements.
Put yourself on the same level as the athlete when speaking to an athlete who uses a wheelchair or is short of stature for more than a minute or two.
Provide extra time for athletes with cognitive or intellectual disabilities to formulate thoughts and complete sentences. Try not to interrupt or provide words for the athlete as this could further delay processing time. Instead, consider ways to ask questions that require only yes/no answers.
Make sure to introduce yourself to an athlete who is blind or has low vision they know who is speaking. Prior to ending the conversation, let them know you will be leaving and who will be guiding them next or when they should expect your return.
Don't:
Be afraid to ask an athlete with a speech impairment to repeat themselves if you have difficulty hearing or understanding.
Over-inflate the successes of an adaptive athlete. While PR times or other goal-related successes should be celebrated as with any other athlete, over-hyping achievements for adaptive athletes gives the impression that expectations were not high to start.
______
Coaching Best Practices:
Take the time to look around your facility and ensure that there are no physical barriers to participation.

Is parking close to the venue? Are there enough handicapped parking spaces?
Are areas accessible to all without having to navigate stairs, thick grass, etc.?
Are hallways wide enough for wheelchairs?
Is the facility tidy and clear of any obstacles?
Are equipment areas or water stations set at a height that is accessible for all?

Have the same expectations of all athletes as you would any other in your program. This means requiring them to show up on time, participate in the full lesson to the best of their ability, etc. While modifications can be made, the focus should be on independence and inclusion.
Don't be afraid to try out a variety of adaptations to find the one that works best for your individual athlete. Prior to the start of the activity, ask the athlete what they need and want, and keep up a dialogue with the athlete throughout the process.
Schedule more breaks if stamina is an issue, consider quieter lesson areas or times of day if the athlete is easily over-stimulated, etc.
Ensure proper adaptive equipment is available so they can be ready to start lessons at the appropriate time.
Allow athletes to choose to challenge themselves by providing appropriate skill progressions to meet their goals.
Consider using Universal Design coaching practices where suitable.

Universal Design: Planning an activity to ensure everyone can participate by considering all needs and abilities ahead of time. You can find links to examples below.
______
Taking the time to learn about disability and general etiquette is a great first step to creating a positive and inclusive environment. While the tips provided by Disabled Sports USA (Move United) will help to ensure that you have the basics, learning more about your individual athlete, their needs, and communication preferences will allow you to create a positive experience for all.