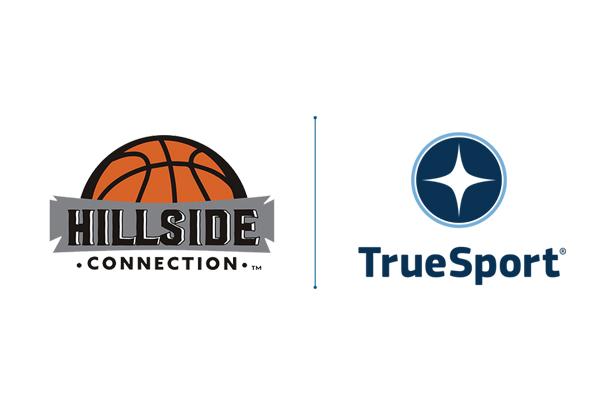 This week, TrueSport, the United States Anti-Doping Agency's (USADA) youth sport outreach program, hosted, in partnership with Hillside Connection, a spring break camp for Southside Colorado Springs Elementary School students at the Hillside Connection Enrichment Center and the Hillside Community Center.
After a challenging two years, now more than ever, our young people need role models who inspire them to take shots in life and rebound when they miss. During this three-day camp (March 21, 23, and 25), three-time wheelchair basketball Paralympic medalist and TrueSport Athlete Ambassador Trevon Jenifer educated students on the values of sportsmanship and goal-setting and also provided some coaching during a basketball skills and drills session. TrueSport additionally guided students through a STEM project that tested the sugar content of beverages and a tower building activity to challenge their ability to strategize as a team. Cambio Yoga, Colorado Springs' first donation yoga studio, was also onsite to host a mindfulness session.
"It was great getting out there this week with the kids," said Jenifer. "I always love giving back to the community and inspiring the next generation. I hope they took away from it that no matter what obstacles they face in life, with perseverance and hard work, they can achieve their dreams."
Trevon 'Trey' Jenifer was born without legs due to a rare disease called Congenital Phocomelia. With the encouragement and backing of his stepfather growing up, Trey competed in wheelchair track, wheelchair basketball, and wrestling. He attended Edinboro University of Pennsylvania where he earned a degree in criminal justice with a minor in sociology and was a member of the wheelchair basketball team. Afterwards, he played professional wheelchair basketball in France, joined the US Men's National Team in 2010, and is now a three-time Paralympic medalist – winning bronze in 2012 and gold in 2016 and 2020. Trey is a proud father of two young children and is an active member of his community, volunteering as the assistant coach for the Edinboro University Wheelchair Basketball team. He enjoys engaging with audiences of all ages, backgrounds, and experiences on the topics of perseverance, bullying prevention, adaptive/disability awareness, and the Paralympic movement. You can learn more about Trey through his autobiography titled, "From the Ground Up."
"Camps like these are important because the kids now have access to a network of people who are looking to really focus on their whole person development, not just the x's and o's that they'll experience on the court," said Audrey Shaw, TrueSport's Outreach Education Program Lead.