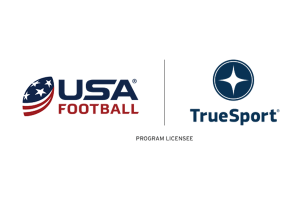 TrueSport®, a positive youth sports movement powered by the U.S. Anti-Doping Agency (USADA), is partnering with USA Football, a member of the U.S. Olympic Committee and the sport's national governing body, to deliver premier character development and athlete health content to football families nationwide.
Partnering with TrueSport enhances sport communities with engaging, expert-researched content that includes topic-based articles, videos, and educational materials. TrueSport content starts conversations between athletes, parents, and coaches on trending youth sport issues ranging from leadership and accountability to sports nutrition and supplements.
As leaders in sport-related education and smarter play, the organizations will team-up to advance USA Football's Football Development Model (FDM) with an innovative, holistic approach to athlete development.
USA Football's FDM is a forward-thinking road map for how athletes are taught values and skills inherent to America's favorite sport. Players' cognitive and physical needs are effectively met through the sport's first long-term athlete development model.
By incorporating TrueSport content into the FDM, USA Football will better equip coaches and parents to teach the many life lessons athletes gain through sport.
TrueSport programming reached more than 10 million youth athletes, parents, and coaches in 2018. Through this new partnership, USA Football will add America's football family to the growing TrueSport community by sharing content spanning the following topics:
| | | | |
| --- | --- | --- | --- |
| Accountability | Leadership | Preparation | Shortcuts |
| Hydration | Mental Wellness | Recovery | Sportsmanship |
| Integrity | Nutrition | Respect | Teamwork |
"Sport is part of the lives of many Americans and few sports capture our attention like football," said Dr. Jennifer Royer, USADA's TrueSport and Olympic Education Director. "The Football Development Model is reengineering how young athletes experience football through an enriched coaching model. TrueSport is proud to partner with USA Football on its FDM by providing our expert-researched educational content on life skills and values, which positively impacts the growth of a young athlete as a whole well into adulthood."
"TrueSport exemplifies the world-class contributors joining our vision for 21st century football through our Football Development Model," said USA Football Director of Coaching Michael Krueger. "Today marks a win for football players of all ages and their families, inspiring greater experiences across our game's grassroots levels. For the millions of kids who love to play football, TrueSport content highlights sportsmanship, character building and healthy performance that will benefit them throughout their lives."
USA Football designs and delivers premier educational, developmental and competitive programs to advance and grow the sport. As the sport's national governing body, member of the U.S. Olympic Committee and organizer of the U.S. National Team for international competition, USA Football partners with leaders in medicine, child advocacy and athletics to support positive football experiences for youth, high school and other amateur players.