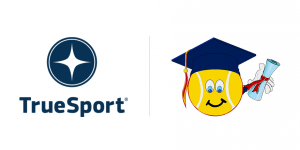 United by a shared goal to help young athletes be successful on and off the court, TrueSport® and A's & Aces are collaborating to host the fourth annual event for student-athletes in the A's & Aces program at Dillard University.
The event will be held at Dillard University from 3:30 – 6:00 p.m. on Monday, December 10 and will feature three-time Olympian and American Record Holder in the javelin throw for USA Track & Field, Kara Winger, who will share her journey from youth sports to the Olympic Games. She will also lead student-athletes through TrueSport lessons that encourage them to take ownership of their nutrition, academic and athletic goals, and overall decision-making while maintaining their integrity and character in sport and in life.
"Sports have shaped my life, and I'm really looking forward to meeting the kids of A's & Aces and students at Dillard," said Winger, "These student-athletes have so much potential and sport has the power to teach them the skills and life lessons they need to maximize that potential. I can't wait to chat with them about how building character on the court and on the field of play can help bolster academic performance, and vice-versa."
The event is held annually to celebrate a partnership that ensures the youth of New Orleans are provided with educational resources that help instill healthy habits for present and future success. Through the programming, student-athletes develop the life skills and access the tools they need to become leaders in their community.
"For the last three years A's & Aces participants have had the honor to meet and learn from some of the best athletes in the country," said David Schumacher, Executive Director of A's & Aces, "It is a great opportunity for our young students-athletes to become inspired by U.S. Olympians and discuss topics that have a meaningful impact on their lives. Our partnership with TrueSport helps us convey the true value of sport by teaching our children essential life lessons beyond the skills of the game so they become not only great athletes, but also great citizens."
"We have a supportive network of elite athletes who role model TrueSport every day," said Lisa Voight, TrueSport Business Development Manager. "Providing New Orleans' youth with success stories from the Olympians themselves allows our organizations to continue to actively engage and inspire young athletes to become strong leaders in their local community."
Along with the collaborative annual event, the partnership continues to equip parents, coaches, and teachers with resources and high-quality, sport-based curriculum to educate public school students in New Orleans.
About A's and Aces:
A's & Aces is a 501 (c) 3 nonprofit organization founded in 2008 with a mission to provide academic assistance, life skills and tennis to New Orleans public school children. Our sport-based youth development model is used to engage and retain under-served youth and others who have lacked access to high-quality academic assistance and tennis, with a goal of helping them succeed on a path to college and beyond.