Sports Outreach Partner Story
A's & Aces was born out of the ruins of Katrina – a hurricane that decimated a city, and changed the life of Tulane tennis coach David Schumacher. When the storm shut down his school's tennis program, he found himself thinking about a whole different kind of success.
He knew that tennis could help young athletes develop important life skills. He knew that it could do the same for the at-risk children of his devastated hometown. So he created A's & Aces, a National Junior Tennis League club for public-school students throughout the city.
But A's & Aces is much more than a tennis program. It's as much about the classroom as it is about the court.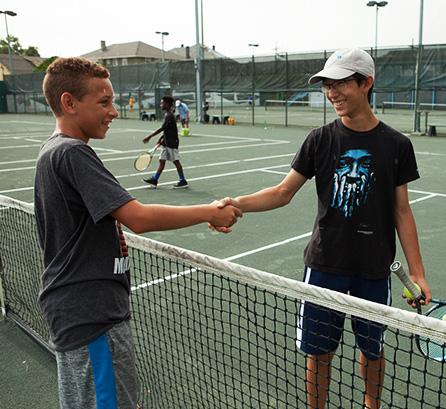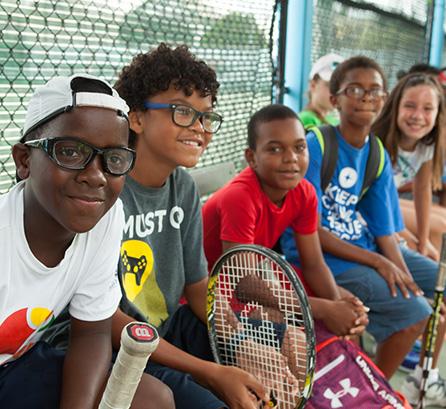 Year after year, student by student, A's & Aces grew and thrived. And TrueSport has been a full partner in that growth. That partnership has included memorable visits from two TrueSport athlete ambassadors: DeeDee Trotter – three-time Olympic medalist in track and field – and, most recently, four-time Olympian Lauryn Williams.
Lauryn is the first U.S. woman to medal in both the summer and winter Olympics, but her accomplishments go far beyond those extraordinary achievements. She's also a tireless advocate for clean competition, a remarkable role model – and a proud TrueSport ambassador.
"TrueSport gave us a complete toolkit," Schumacher says. "Lessons, videos, and a coaching playbook. But it's the personal interaction that takes it to another level. When Lauryn presented the TrueSport lessons to the kids, it was so exciting for them, so empowering. You could tell, then and there, that she was making a real, deep connection. It was almost magical! That's the kind of moment that can change a kid's life."
Today, A's & Aces – partnering with TrueSport – is a real force in the community, helping the children of New Orleans in profound, life-changing ways. It provides both in-school and after-school tennis programming, holiday camps, and a summer camp – along with a continued emphasis on academics.
What began with a handful of kids, from kindergarten to third grade, has grown into a program that's helping students at every level build the skills they need for success – on and off the court.